Tornadoes and the "Clash of the Air Masses"
Ever seen media reports talk about how tornadoes form in the central United States? It always seems to start with warm air from the south meeting cold air from the north. Need some examples? How about these?
USA Today: http://www.usatoday.com/story/news/nation/2013/06/08/oklahoma-tornadoes-ef5-moore/2401885/
The Independent: http://www.independent.co.uk/news/tornado-disaster-clash-of-air-masses-in-tornado-alley-1091490.html
KTBC Fox News, Austin, Texas: http://www.myfoxaustin.com/story/21871999/weather-facts-tornado-rotation
The BBC: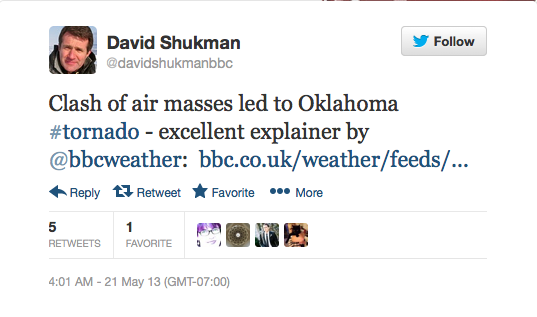 National Geographic: http://ngm.nationalgeographic.com/2013/11/biggest-storm/tornado-formation
I think the saddest thing about the National Geographic article and web site being wrong is that this was in association with an article about the death of storm chaser Tim Samaras.
Wikipedia is not immune either (accessed 26 November 2013):
In the middle latitudes, where most tornadoes of the world occur, the Rocky Mountains block moisture and buckle the atmospheric flow, forcing drier air at mid-levels of the troposphere due to downsloped winds, and causing the formation of a low pressure area downwind to the east of the mountains. Increased westerly flow off the Rockies force the formation of a dry line when the flow aloft is strong,[63] while the Gulf of Mexico fuels abundant low-level moisture in the southerly flow to its east. This unique topography allows for frequent collisions of warm and cold air, the conditions that breed strong, long-lived storms throughout the year.
I am amused that the same media that were drooling for the opportunity to travel with VORTEX2 to collect data to better understand tornado development are the ones that don't even read their own past stories when the next tornado outbreak happens. It's back to the old chestnut: "colliding air masses."
Well, several of us have been quite frustrated by the lack of accurate science on tornadoes getting into the media stories. Yvette Richardson, Paul Markowski, Chuck Doswell, and I just submitted this paper to the Bulletin of the American Meteorological Society addressing this issue. Whether this article has any impact, I don't know.
But, we meteorologists should demand better from our media. And, the public should, as well.
UPDATE (9 March 2014): Here is the latest version.