Do you end with a 'thank you' or 'questions?' slide?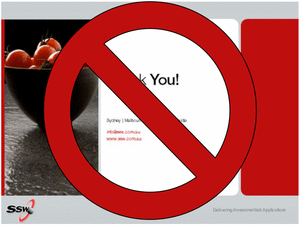 If you do, you are wasting a valuable opportunity to leave your audience with your take-home message.
Of course, you should express your appreciation to your audience by thanking them for their attention, but I am not impressed by a speaker who thinks that a slide is the way to express such sincerity.
Likewise, everyone knows that when most speakers are done speaking, they are given time to answer questions. So, why show a slide stating just that?
Leaving your principal conclusions or take-home message for your audience on the screen while you answer questions allows the readers to focus on something meaningful. The longer that message sits in front of them, the more likely they will remember.
Take the pledge: Say no to "Thank you!" or "Questions?" slides.
(Image from SSW consultants from their Web page that advocates "Always end your presentation with a 'Thank You' slide. More than being polite, it makes clear that this is the last slide and presentation is over." Duh.)