An example of an excellent figure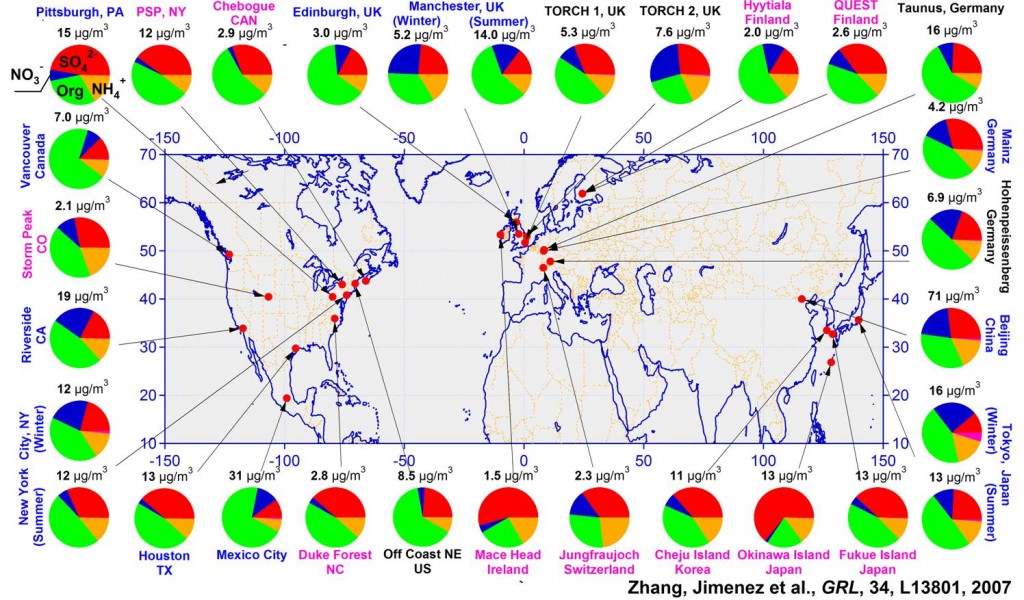 I had been showing this figure to several students recently about an effective way to plot a lot of spatial data without the figure looking cluttered. I think this is one excellent way to do it. The plots are all ordered around the perimeter of the map, yet the points take you to the locations where the measurements were taken. The order of the plots around the perimeter is arranged by the continental groupings of the data: Europe in the upper right, Asia in the lower right, and North America to the left.
To whoever had the idea for and constructed this figure. I toast you!
Q. Zhang, J.L. Jimenez, M.R. Canagaratna, J.D. Allan, H. Coe, I. Ulbrich, M.R. Alfarra, A. Takami, A.M. Middlebrook, Y.L. Sun, K. Dzepina, E. Dunlea, K. Docherty, P.F. DeCarlo, D. Salcedo, T. Onasch, J.T. Jayne, T. Miyoshi, A. Shimono, S. Hatakeyama, N. Takegawa, Y. Kondo, J. Schneider, F. Drewnick, S. Weimer, K. Demerjian, P. Williams, K. Bower, R. Bahreini, L. Cotrell, R.J. Griffin, J. Rautiainen, J.Y. Sun, Y.M. Zhang, and D.R. Worsnop (2007) Ubiquity and Dominance of Oxygenated Species in Organic Aerosols in Anthropogenically-Influenced Northern Hemisphere Mid-latitudes, Geophysical Research Letters 34, L13801, doi:10.1029/2007GL029979 [PDF].