Are students prepared for university-level writing?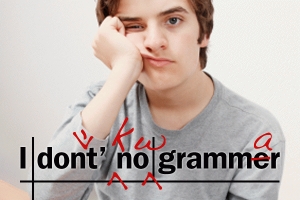 Kim Brooks has this essay "Death to High School English" published in Salon.com. She details her experiences with finding students who don't know the basics of writing: composition, structure, thesis statements, grammar, punctuation, and plagiarism. My own experiences here in the UK with final-year environmental-science majors were remarkably similar to hers, so the problem isn't unique to U.S. schools.
Brooks describes that at least one problem contributing to the poor quality of the student writing is that students are doing less writing in K-12 and it is not being rigorously graded. Should we instructors be spending more time on the basics and less time on "the fun stuff"? Here, Brooks describes examples of "the fun stuff": short film adaptations from The Scarlet Letter, class discussions, peer reviewing—all of which the students prefer, but doesn't seem to substantially impact the quality of their composition and writing skills.
Brooks doesn't offer any firm conclusions on how to improve the system, merely raising the point that maybe students don't get rigorous enough training in writing in high schools. Thus, they come to college or university unprepared.