Upsidence?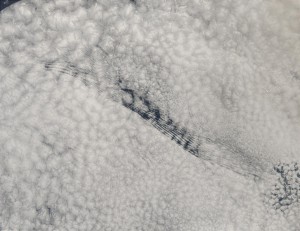 Dave Mechem (University of Kansas) and my Manchester colleagues have been telling me about a new term that has been adopted from geology into atmospheric science: upsidence. My understanding of upsidence is that the term means ascent in an environment with otherwise large-scale descent. The term is used to refer to an "upsidence wave", a gravity wave visible in the subtropical stratocumulus deck. In geology, the term refers to"reduction in subsidence", such as from underground mining leading to subsidence in region.
In Eloquent Science (pp. 96–97), Mark Stoelinga discusses the introduction of new scientific terminology. His essay arose out of a discussion the two of us had about how bad terminology would get into the literature (sometimes by authors who seemed intent on always giving a new name to something that didn't necessarily need a new name). Then, these terms would be almost impossible to get rid of. His four points:
1. Use existing terminology whenever possible.

2. Follow existing customs and conventions.

3. Terms must be scientifically accurate, precise, and descriptive.

4. Try to get terminology right the first time, and avoid subsequent changes.
So, if you agree with the above four points, is introducing a new term upsidence really needed?