Book Review: Trees, maps, and theorems: Effective communication for rational minds by Jean-luc Duomont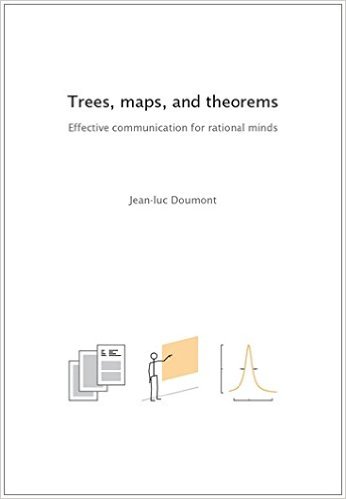 I got a copy of Jean-luc Doumont's Trees, Maps, and Theorems Effective Communication for Rational Minds
a long time ago, and read it almost immediately. I've been meaning to write a review for a long time. With the annual office clean before the new semester starts, this gives me a perfect opportunity to do so.
This is a beautifully designed book. There is lots of open space, perhaps too much, as the book is too tall for my bookshelf. The layout is a bit unusual, which requires some guidance on how to use it. I'm not sure I totally get the motivation for doing it this way, but I give the author credit for trying something that fits his vision.
Now, what's inside: Doumont provides clever and thoughtful analysis of various elements of science communication, whether it be written, graphical, slides for oral presentations, email, or posters. FAQs from his many workshops are presented in the left-side-page margins. He is unapologetic and rigorous. His style may not be for everyone; it's different than all the many other science communication books out there. If you want a different approach, then Trees, Maps, and Theorems may be for you.
Enjoy his presentations online:
1. Creating effective slides: Design, Construction, and Use in Science
2. Communicating Science to Nonscientists
Amazon link to book: Trees, Maps, and Theorems Effective Communication for Rational Minds
Home page for the book (including sample pages): http://www.treesmapsandtheorems.com/