A tribute to the teacher without whom Eloquent Science would not have been written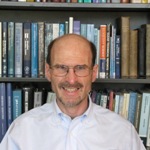 Yesterday I found out that Professor Dan Keyser of the State University of New York at Albany won the 2014 Edward N. Lorenz Teaching Excellence Award, given by the American Meteorological Society. The citation stipulates:
"For meticulous and inspiring lectures, for a demanding yet compassionate demeanor, for his individualized mentoring and unwavering commitment to his students, and for his unique contribution to the SUNY School of Meteorology."
Dan was one of my two PhD advisors. The other was Lance Bosart, who won the same award in its first year. I am fortunate to have been educated by two of the greatest synoptic meteorologists – and educators – on this planet. My science, my teaching, and my writing owes a lot to them.
Eloquent Science would not have been written without Dan's influence. In the Preface (pp. xi–xii), I described the frustration of coauthoring the manuscript from my thesis with Dan:
…Dan Keyser and I discussed revisions by phone while he lived in upstate New York and I in Oklahoma. My schooling was severe: fifteen one-hour-long phone calls where we would go through the draft together—one section at a time, sentence by sentence. Not all of Dan's lessons I embraced immediately, however. Sometimes we were frustrated by each others' stubbornness: me by his insistence to do things his way and he by my resistance to learning. Finally, something snapped inside and clarity came: I understood what he was trying to tell me about transition, coherence, and precision, and it made complete sense. Subsequent revisions went much more smoothly, and the manuscript made it easily through the review process and was published. Wherever that revelation came from, Eloquent Science would not have happened without that moment.
Later in the Acknowledgements I wrote, "The writing process that Dan opened my eyes to was a turning point in my educational experience (p. xv)."
My heartfelt congratulations to Dan for being selected to receive this award.