Why does nothing this interesting ever happen at any conferences I attend?
From the Huffington Post: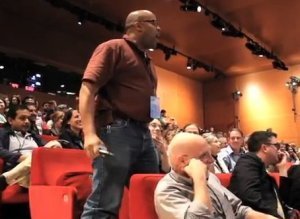 Guerrilla improv troupe Improv Everywhere struck again last month at GEL Conference, the annual gathering of tech/social media/business voices in New York City.
With the help of GEL founder Mark Hurst, the covert entertainers pulled off one of their signature "Spontaneous Musicals" at the top of Hurst's presentation. Just as he tells the audience to politely turn off their mobile devices, a man suddenly rises and begins singing about the audacity of the request.
In a matter of minutes, dozens of IE agents pop out of their seats and join the singing man, uniting their cries into a hilarious song about social media called "Gotta Share," much to the delight of the GEL attendees.
You can watch video of the event at this link.