History of the Scientific Article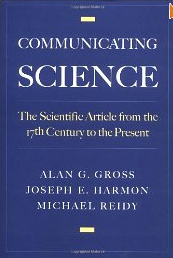 I just finished reading a fascinating book, if you are interested in the history of how scientific literature came to be. It's called Communicating Science: The Scientific Article from the 17th Century to the Present
by Gross, Harmon, and Reidy. As the book describes, previous studies of the literature have focused on specific periods, regions, or aspects. No comprehensive study from the beginning (1665) to the present has been performed. So, the book is actually part research report and part historical summary. It's a little different in that way.
The book describes how three different groups of scientific articles (those published in English, French, and German) have evolved over time, discussing changes in the style, presentation, and argument century by century.
The authors have also published another book about the scientific literature that I have not read. Next on my shopping list: The Scientific Literature: A Guided Tour
.