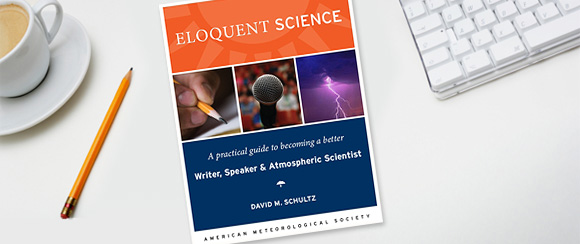 Eloquent Science: A Practical Guide to Becoming a Better Writer, Speaker, & Atmospheric Scientist was conceived from a workshop taught over six years to undergraduate students at a summer research experience. The volume is divided into three parts: writing, reviewing, and speaking, and offers tips on poster presentations, media communication, and advice for non-native speakers of English, as well as appendices on proper punctuation usage and meteorological concepts. Sidebars written by experts in the field offer diverse viewpoints on reference topics important to the reader, and a recommended reading section at the end of the book guides the reader to the best additional resources. Although the book is aimed at students and early career scientists, even senior scientists will find useful nuggets inside.
To order, visit:
The American Meteorological Society (preferred) or
The University of Chicago Press
Also available at Amazon.com
E-Book now available through Springer.
Eloquent Science may be freely available through your library. Visit here to find out.
Featured

The Importance of Thinking Before Writing
I was helping a student with a paper he was writing. He said a lot of interesting things, just not being very effective at what he was trying to convey. Here was my advice to him. If you can write down 1–3 bulleted sentences that convey your principal... [Read more]
---

Plagiarism and Self-Plagiarism Policy
Recently, I had the opportunity to help develop a policy for plagiarism and self-plagiarism for the journals of the American Meteorological Society. That policy was published in the February 2015 issues of the various journals. Although the policy... [Read more]
---

Is the university seminar dying?
Is this the future? Is it the present? Source: pixabay. When I reminisce about the educational experiences that most prepared me for a career in academia, attending the weekly seminar series was one of the more important influences. I had the opportunity... [Read more]
---
Read More Posts From Featured