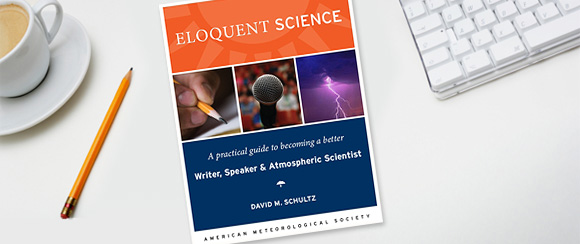 Eloquent Science: A Practical Guide to Becoming a Better Writer, Speaker, & Atmospheric Scientist was conceived from a workshop taught over six years to undergraduate students at a summer research experience. The volume is divided into three parts: writing, reviewing, and speaking, and offers tips on poster presentations, media communication, and advice for non-native speakers of English, as well as appendices on proper punctuation usage and meteorological concepts. Sidebars written by experts in the field offer diverse viewpoints on reference topics important to the reader, and a recommended reading section at the end of the book guides the reader to the best additional resources. Although the book is aimed at students and early career scientists, even senior scientists will find useful nuggets inside.
To order, visit:
The American Meteorological Society (preferred) or
The University of Chicago Press
Also available at Amazon.com
Featured

How the Purpose of the Literature Review Affects How You Write It
Which is harder? Assembling the literature review for your dissertation or assembling the literature review for your journal article? Which is harder for the author to write? Assembling the literature review for a dissertation. Assembling... [Read more]
---

Effective use of colors in meteorological visualizations
A new paper has appeared in the Early Online Releases at the Bulletin of the American Meteorological Society. This paper is entitled, Read More →
---
Scientific integrity matters! Fabricated peer reviewers lead to 60 retractions.
Thanks to The Week's report, I was alerted to the 60 retracted articles from the Journal of Vibration and Control. The explanation and list of retracted papers is here. More saucy details can be found here. Kudos to the Editor-in-Chief Ali H.... [Read more]
---
Read More Posts From Featured