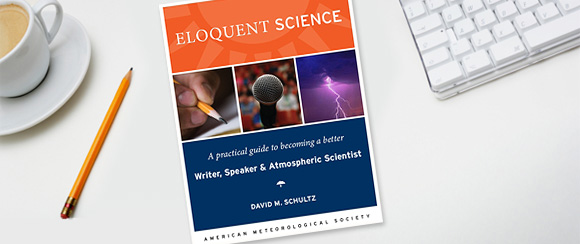 Eloquent Science: A Practical Guide to Becoming a Better Writer, Speaker, & Atmospheric Scientist was conceived from a workshop taught over six years to undergraduate students at a summer research experience. The volume is divided into three parts: writing, reviewing, and speaking, and offers tips on poster presentations, media communication, and advice for non-native speakers of English, as well as appendices on proper punctuation usage and meteorological concepts. Sidebars written by experts in the field offer diverse viewpoints on reference topics important to the reader, and a recommended reading section at the end of the book guides the reader to the best additional resources. Although the book is aimed at students and early career scientists, even senior scientists will find useful nuggets inside.
To order, visit:
The American Meteorological Society (preferred) or
The University of Chicago Press
Also available at Amazon.com
E-Book now available through Springer.
Eloquent Science may be freely available through your library. Visit here to find out.
Featured

How to download a reference from AMS Journals Online
. 1. Go to an article, say http://journals.ametsoc.org/doi/abs/10.1175/MWR-D-16-0460.1 2. On the red bar, click on the download button (third icon from left). 3. This screen appears: http://journals.ametsoc.org/action/showCitFormats?doi=10.1175%2FMWR-D-16-0460.1 4.... [Read more]
---
How Bill Paxton Helped Us Understand Tornadoes in Europe
Twister, Bill Paxton, 1996 Today I learned that Bill Paxton died at the age of 61. I never met him, although I knew people who had met him during the filming of Twister. He was said to be friendly and curious about the science on set. Many meteorologists... [Read more]
---
"Improving Together: Better Science Writing Through Peer Learning"
How do you motivate early-career researchers to improve their communication skills? Mathew Stiller-Reeve from the Bjerknes Centre for Climate Research in Bergen, Norway, and colleagues reveal how they were able to develop their writing and communication... [Read more]
---
Read More Posts From Featured