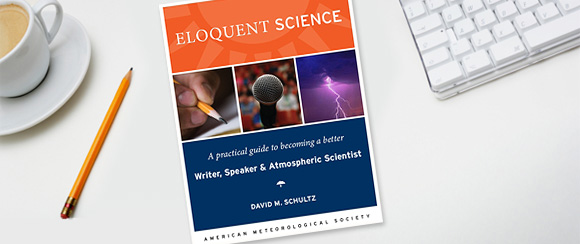 Eloquent Science: A Practical Guide to Becoming a Better Writer, Speaker, & Atmospheric Scientist was conceived from a workshop taught over six years to undergraduate students at a summer research experience. The volume is divided into three parts: writing, reviewing, and speaking, and offers tips on poster presentations, media communication, and advice for non-native speakers of English, as well as appendices on proper punctuation usage and meteorological concepts. Sidebars written by experts in the field offer diverse viewpoints on reference topics important to the reader, and a recommended reading section at the end of the book guides the reader to the best additional resources. Although the book is aimed at students and early career scientists, even senior scientists will find useful nuggets inside.
To order, visit:
The American Meteorological Society (preferred) or
The University of Chicago Press
Also available at Amazon.com
Featured

More thoughts about scientific poster presentations
As our academic year comes to an end and our undergraduate and masters students are busy preparing scientific posters of their dissertation research, I am reminded of why I dread having to grade these posters every year. Students usually just dump their... [Read more]
---

ISI Impact Factors versus Scopus SJC Factors
ISI Impact Factor Versus Scopus SJC Factor (Courtesy of Rene Garreaud) Click on figure to enlarge. Thanks to Prof. Rene Garreaud of the Departamento de Geofisica, Universidad de Chile, for sending me this graphic showing the comparison between the Impact... [Read more]
---
Why do good papers get few citations?
Have you ever looked at Google Scholar or your ISI Web of Science scores and wondered who was citing your papers and why were they citing them? After thinking a bit more about why certain papers on my CV have received as much or as little attention through... [Read more]
---
Read More Posts From Featured