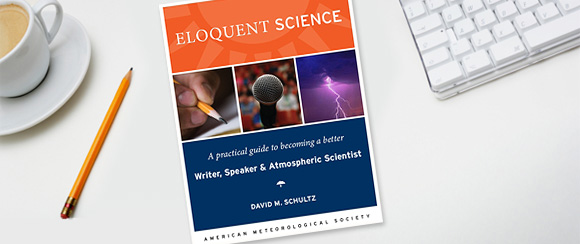 Eloquent Science: A Practical Guide to Becoming a Better Writer, Speaker, & Atmospheric Scientist was conceived from a workshop taught over six years to undergraduate students at a summer research experience. The volume is divided into three parts: writing, reviewing, and speaking, and offers tips on poster presentations, media communication, and advice for non-native speakers of English, as well as appendices on proper punctuation usage and meteorological concepts. Sidebars written by experts in the field offer diverse viewpoints on reference topics important to the reader, and a recommended reading section at the end of the book guides the reader to the best additional resources. Although the book is aimed at students and early career scientists, even senior scientists will find useful nuggets inside.
To order, visit:
The American Meteorological Society (preferred) or
The University of Chicago Press
Also available at Amazon.com
Featured

My response to 3monththesis's "Why some perfectionism is a good thing"
The original post is here, and the post starts: One of the most common pieces of writing advice is to "just get words down on the page; don't worry about detail, and don't think too much". This is often given as a way of overcoming writers block,... [Read more]
---

Oh…snap! 1895-style.
From the mini-Annals of Improbable Research ("mini-AIR") "Pitted Pebbles in the Bunter Conglomerate of Cannock Chase." T. Mellard Reade, Geological Magazine, vol. 2, no. 8, August 1895, pp. 341-5. LINK: The author instructs: "Mr.... [Read more]
---
Polarimetric radar terminology
My colleague Joey Picca from the Upton NWS Forecast Office tells me that the term "dual-polarimetric" is redundant because "polarimetric" already implies the use of a radar with multiple polarizations. Thus, "polarimetric"... [Read more]
---
Read More Posts From Featured