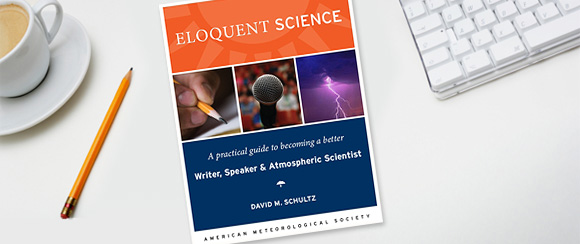 Eloquent Science: A Practical Guide to Becoming a Better Writer, Speaker, & Atmospheric Scientist was conceived from a workshop taught over six years to undergraduate students at a summer research experience. The volume is divided into three parts: writing, reviewing, and speaking, and offers tips on poster presentations, media communication, and advice for non-native speakers of English, as well as appendices on proper punctuation usage and meteorological concepts. Sidebars written by experts in the field offer diverse viewpoints on reference topics important to the reader, and a recommended reading section at the end of the book guides the reader to the best additional resources. Although the book is aimed at students and early career scientists, even senior scientists will find useful nuggets inside.
To order, visit:
The American Meteorological Society (preferred) or
The University of Chicago Press
Also available at Amazon.com
E-Book now available through Springer.
Eloquent Science may be freely available through your library. Visit here to find out.
Featured
Use your middle initial. Appear smarter.
A coauthor on a paper and I ended up discussing whether scientists should use their middle initial on a paper. An article entitled "The impact of middle names: Middle name initials enhance evaluations of intellectual performance" in the European... [Read more]
---
How to respond to reviewers: When two reviewers say the same thing
My coauthors and I were talking about the responses to the reviewers that we were writing for a paper that was in peer review. Because two of the reviewers raised issues about the same item, my coauthor wrote a thoughtful response to Reviewer #1, then,... [Read more]
---
"Conclusions and Discussion"? What should you call the last section of your paper?
Astute reader Colin Smith fired the following question my way: I find that many authors call their closing section "Conclusions and discussion", rather than 'Discussion and conclusions". I prefer the latter because, to me, it is... [Read more]
---
Read More Posts From Featured